Synteko for Professionals
Synteko Has been supplying timber floor sealers and finishes to professionals for over 50 years in 70 countries around the world. As a professional one can take comfort in the knowledge that Synteko is backed by Sika AG, a multinational public company, one of the largest construction chemical companies in the world with manufacturing subsidiaries in 90 countries, employing many thousands of people with sales in excess of US$5.8 billion in 2014. Synteko original floor finishes are manufactured in Northern Europe by Sika Baltic AB.
Synteko water based, Natural Oil and Solvent based floor finishes focus on high quality, latest technology and environmentally approved products that enhance the beauty of timber floors. These products are manufactured to the International Standard ISO 14001 and ISO 9001 making them the most environmentally friendly floor coatings available in the world.
Whether you select one of our industry leading environmentally friendly water base coatings, solvent or oil finishes we have the answer. Synteko products are available nationally because we have a comprehensive technical and customer service network. This will enable you to confidently specify our product that will not only be reliable and durable but emphasize the natural beauty of the timber floor itself. Below, for your convenience, is a quick reference guide listing the characteristics of the various timber floor finishes in table format.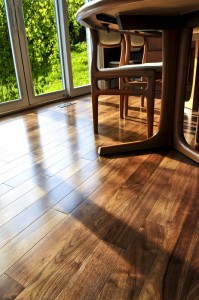 Finish Comparison Table
Compare the various features of Surface Coating finishes (Waterbase and Solventbase) and Penetrating Oil treatments via our comparison table.
Surface Coating
Water Based
Solvent Based
Oil Modified
fast drying
fast drying
slow drying
3 gloss levels
3 gloss levels
3 gloss levels
clear in colour / non-yellowing / NMP free
slightly amber in colour
amber in colour
very good durability
very good durability
very good durability high solids
non-toxic, no odour
strong odour, non lingering
moderate odour
non-flammable
combustible
combustible
easy to re-coat
easy to re-coat
easy to re-coat
low maintenance
low maintenance
low maintenance
no edge bonding
no edge bonding
no edge bonding
Low VOC's
Meets new VOC rules
Meets new VOC rules
Penetrating Oils
Natural / Domo / Hardwax
fast drying
matte finish
amber in colour
excellent durability
very mild odour
very high solids
renewable by consumer
low maintenance
no edge bonding
Zero VOC's
Learn more about our Floor Finishes…

Click on the buttons below to read more about the features of each key floor finish type.
Product Ranges for Professionals