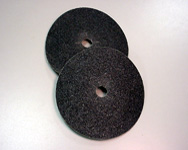 Virginia Edger Discs are engineered to provide long life and ensure smooth professional finish. This allows for the disc to cut faster, resist heat loading and tearing.
Edger discs are available in either the conventional centre hole ( 178mm dia.) form or the new Quicksand system. The tool-free changing system features Velcro technology that reduces changing time to just seconds. A conversion pad attaches like a standard paper disc and protects the rubber back-up pad and the sanding disc is simply pressed into place or removed with in seconds.
The Quicksand Edger system is suitable for all 178 mm dia. ( 7″) makes of edgers.
Available as:
Edger Disc (no hole) 174.5mm dia.
Conversation Disc (with hole) 174.5mm dia.