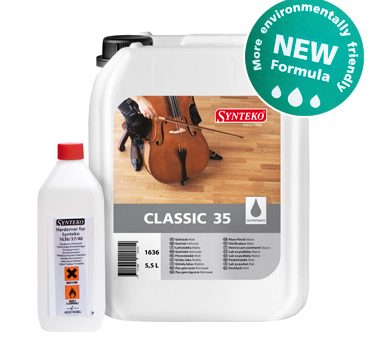 The renowned Synteko Classic commonly known as "The Swedish Finish" has been re-formulated to meet new stricter VOC rules in Europe.
The most important benefit not only to the user but to the homeowner, besides reduced VOC's, is the lower odour.
The Classic is still a fast-drying, two-component, acid-curing hardwood floor finish for interior use based on modified amino and alkyd resins in a solvent mixture. This finish has an amber colour, enhancing natural wood colours.
Synteko Classic delivers an extremely durable, long lasting beautiful finish. Suitable for finishing of hardwood and other timber floors in residential as well as in commercial areas. A unique and distinguishing feature of Synteko Classic is the ability to highlight the timber like a gem stone, offering colour, clarity, depth and brilliance. This brings the wood to life. Classic allows one to see the distinct wood fibres offering excellent grain clarity, depth and colour definition. This differs from a water base floor finish that is dull, pale and one-dimensional in appearance.
Synteko Classic acts as its own sealer, thus minimising rejection associated with oily timbers, has excellent workability properties and its fast drying time provides the benefit of one-day job application. Synteko Classic is available in three gloss levels: Matte, Satin, Gloss.
Synteko Classic complies with the latest VOC rules in Europe.