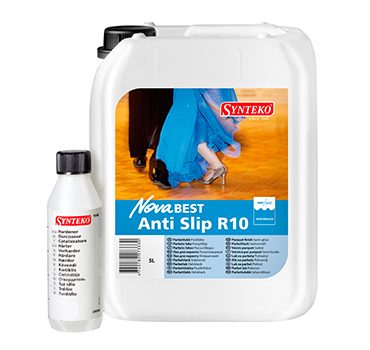 Synteko Nova Best Anti Slip is suitable to be used where the anti-slip standards are to be met. Synteko NOVA Best A-S is a two-component matte finish, water-based, low-odour, non-yellowing polyurethane hardwood timber floor finish for use in high traffic commercial areas that meets:
The AS 4586-2013 slip test requirements.
Synteko Nova Best Anti Slip which is NMP-free is an environmentally friendly timber floor finish with extremely low VOC's, yet is very hard and user friendly. In addition it has an extended open coat time to facilitate application.
This finish is highly desirable because it emphasises the timber's natural colour.
Synteko Nova Best 5 comes in one sheen level:
Synteko Nova Best Anti Slip is resistant to wear, scratching, scuffing, marring and chemicals. It is, therefore, ideal for surfaces subjected to unusually heavy wear, provided adequate coatings are applied and sufficient curing has taken place.
Synteko Nova Best Anti Slip must be used as a finish coating over standard Synteko Nova Best can be used on, previously finished or pre-finished timber surfaces.