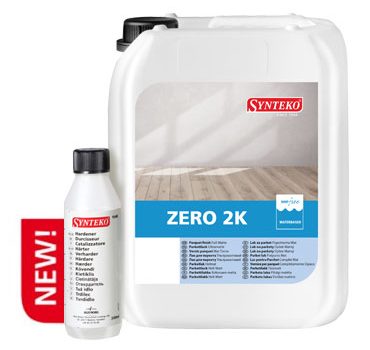 Synteko® Nova best ZERO 2K floor finish is a full matt waterborne 100% PU finish for wood and parquet floors in heavy traffic areas. Unique composition of its
raw materials allows it to be called a "bio-based" product.
As by new technology, product is fortfied with ceramics based on our unique Small Particles Technology. Synteko® ZERO 2K is exceptonally durable to scratches, heel marks and ordinary household chemicals.
Added ceramic particles makes Synteko® ZERO 2K even more environmentally friendly and low VOC.
Synteko® ZERO 2K is "invisible" after application which corresponds to markets desire for natural look of finished floors. Groundbraking purity of
product and its composition allows its usage as "invisible" top coat of Synteko® SolidMax 2K OIL.
Providing an opportunity to combine oil enhanced look with "invisible" protection of surface.