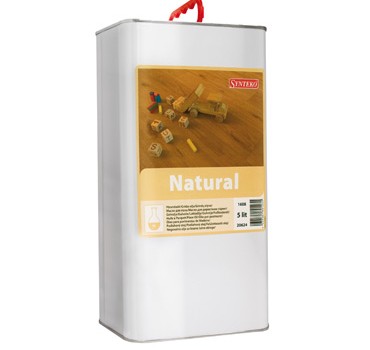 Synteko Natural Oil is a solvent free, faintly smelling high solid hard oil. This matte natural oil finish with its high solid content has superior wear and tear properties covering approximately three times more area than other wood floor oils. This product is oxygen curing and provides a beautiful natural smooth surface. Synteko Natural is recommended for commercial areas like offices, shops, museums, shopping centers and other areas where high wear resistance is required. A significant advantage of Synteko Natural Oil over all other floor oils is its zero VOC emissions coupled with 100% solid content making it exceptional durable and extremely environmentally friendly.
This is a matte finish only.
Synteko Natural Oil is similar to Synteko's other penetrating oils being a non-film building finish. When applying this type of finish the object is to "work" the product into the wood fibres and not allow it to sit on top.The most common mistake with applying this type of product is either too much oil is left on the timber surface or insufficient oil is applied and the timber grain is sanded too finely.